Product Description
1.General
Ratings: voltage up to 10kV, current up to 5000A, AC50HZ.
Application: for the control and protection of substation and euquipments. It matches with switchgear panel KYN28A and XGN.
Standard: IEC62271-100.
2. Type and Interpretation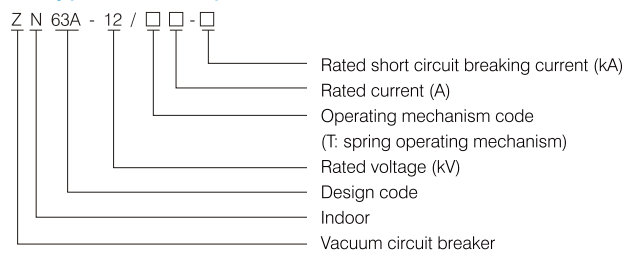 3. Working Condition
Ambientair temperature:-15~+40C
Altitude:≤2000m
No operating in such places as subject to dust,smog,corrosive/flammable gas,vapor and salt
pollution.
Humidity:
Daily average value≤95%
Monthly average value≤90%
Water vapor pressure:
Dailyaveragevalue≤2.2kPa
Monthlyaverage value≤1.8kPa
The external shocking and earthquake could be neglected.
The amplitude of electromagnetic interference in the secondary system≤1.6kV.
※ Note:
1.Customized products forother special working conditions are available on your requirements.
2.We have developed products suitable for high altitude.
Ordering Information
Please indicate the following items when order.
Type, parameters and quantity.
Name and quantity of spare parts.
Name and type of operating mechanism.
※ Customized products are available per your requirements.



Item

Unit

Data

1

Rated voltage

kv

12

2

Maximum working voltage

kv

12

3

Rated current

A

630

1250

630 1250

1600 2000

2500 3150

1250 1600

2000 2500

3150 4000

4

Rated short-circuit break current

kA

20/25

31.5

40

5

Rated short-circuit close current (peak value)

kA

50/63

80

100

6

Rated withstand current (peak value)

kA

50/63

80

100

7

4S Rated little withstand current

kA

20/25

31.5

40

8

Rated insulation level

Industrial frequency withstand voltage

kA

42/48

Thunder impulse

withstand voltage

75/85

9

Rated operation order




Off-0.3S on and off-180S-on and off

10

Mechanical life

times

10000

11

Rated short-circuit current break and close time

times

50

12

Speak and move organization amount assign the current

of the floodgate(DC)

V

AC.DC.110,220

13

Speak and move organization amount equal to the current

of the floodgate(DC)

V

AC.DC 110,220

14

Switching distance of the contact

mm

>11

15

Ultra journey(touches the head spring and compress length)

mm

4+/-0.5

16

Three-phase breaking into shut

floodgate sex of the same period

ms

<2

17

Touch the head and shut a floodgate of time of bouncing

ms

<2

18

Average speed of breaking brake

m/s

0.9~1.2

19

Average speed of closing brake

m/s

0.5~0.8

20

Time of breaking brake

Operate it under the

voltage highest

s

<0.05




Operate it under the

voltage lowest

<0.08

21

Time of colsing brake

s

<0.1

22

Each the resistance of main return circuit

u Ω

<45

23

Allowance abrasion cumulated thickness

of the moving and stationary contact

mm

3